TWENTY-SIXTH SUNDAY

IN

ORDINARY TIME

CELEBRATION OF THE EUCHARIST

Our Lady of Victory
St. Malachy
Sunday - 9:00 A.M.
Saturday - 7:00 P.M.
F O O D F O R T H E W E E K

Reading I
EZEKIEL 18:25-28 (personal responsibility)
Reading II
Philippians 2:1-1(imitating Christ's humility)
Gospel
Matthew 21:28-32 (parable of the two sons)
Key Passage
A man had two sons; he went to the first and said,"Son, go and work in the vineyard today." He answered, " I will not";but later he changed his mind and went. The father went to the second son and said the same; and he answered,"I go, Sir"; but he did not go. Which of the two did the will of his father? They said,"The first".(Matthew 21:28-31)
Adult
When have your actions not measured up to your promises? What was the outcome?
Pastor

William Marrevee s.c.j.

Email

Rectory

490 Charles Street
Gatineau, Québec J8L 2K5

Secretary

Monday and Thursday 1:00 - 4:00 p.m.

Telephone

(819) 986-3763

Fax

(819) 986-9889
A sincere welcome to those who are new among us. We hope you find a warm and welcoming faith-home with us. Please introduce yourself after Mass and call the Rectory to register.
TWENTY-SIXTH SUNDAY IN ORDINARY TIME SEPTEMBER 25TH, 2005
TUE.
Sept. 27 - 9:00 a.m.
Alice Lavell Cosgrove by Kay Spottswood & family
SAT.
Oct. 01 - 7:00 p.m.
Rita Weatherdon (5th Ann.) by Shirley, Rolly & Philip
Anthony McMann (21st Ann.) by the family
SUN.
Oct. 02 - 9:00 a.m.
Michael Morgan by Darlene & Jean Marc Morgan
Deceased Members of the McFaul family by Hugh
Larry Prudhomme by Rose Morgan
LAST SUNDAY'S LAUNCH OF OUR PASTORAL YEAR:
It was the second year in a row that we started our pastoral year activities with a launch after Sunday Mass. We are most appreciative of those who took the time to be part of it. As chair of our joint PPC (Parish Pastoral Council) Gail enlightened us on the path we are on. It was most informative. And she did a great job on shedding light on how as a parish we are really on a journey (hence the canopy-tent idea) that Jesus Christ puts us as his followers on empowered by his Spirit.
What are we about as we are on that journey? It is well captured in the four poles that together make up parish life. These are the four clusters of parish activities.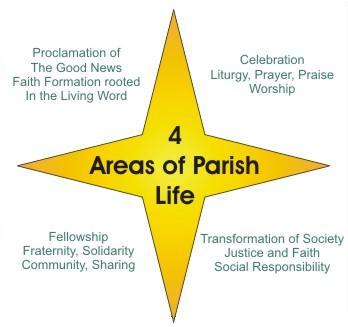 It is a real challenge to keep these four poles alive, which is really another way of saying to keep our parish life. As parishioners we all can make a small contribution to it. It is true that with a dwindling and aging membership we have unique challenges on our hands. Let us keep at it.
"BAPTISM IN JESUS NAME" - YES, IMPORTANT FOR CHILDREN, EVEN MORE SO FOR ADULTS:
It is not that long ago that the popular expression for baptism was "It takes away original sin". We have to be careful with an expression like that. It sounds so negative. Moreover, associated with that expression was the practice to baptize infants as soon as possible after birth, "in case something happens" as the popular expression had it.
"Baptizing in Jesus' name" does so much more than "taking away original sin". How about if we explore that a bit in our Sunday Bulletin for the next little while? After all, the significance of baptism is not limited to the moment of being baptized whenever that was. Baptism lays the ground work for and shapes the entire Christian life; in fact, it has something very important to say about what lies ahead beyond the year we have here. that, by the way, is the reason why I am inclined to be generous with the baptismal water at funerals(even if it results in a somewhat messy floor- sorry for that!)
All this is not to downplay the significance of being baptized. On the contrary, it is hoped that in some small way it may contribute to a greater appreciation of it. But keep in mind that is all centered in Jesus Christ; who he is for us.
COMING UP - PATRON FEAST OF THE DIOCESE - OCTOBER 11TH:
The Church celebrates the feast of Mary Mother of the Church on October 11th. That is the Patron Feast of our Diocese. The day will be marked by a formation session for all who work in the various parishes.
In the evening there will be a celebration of the Eucharist presided by the Bishop to which all are invited to mark that day. It will be held at the cathedral St. Jean Marie Vianney at 7:30 p.m.
DIOCESAN CHARISMATIC ASSEMBLY - SATURDAY OCTOBER 1ST:
In the context of the Eucharist, a Diocesan Charismatic Assembly will take place around the theme of "The Eucharist: Bread of Life". The invited speaker for the occasion is Father Maurice Theriault s.m.m.. The assembly begins at 8:30 a.m. and will conclude at 9:00 p.m., St Joseph Church in Hull (245 Boul. St. Joseph) is the location. For information: Louise and Jean-Luc Hurtubise at 771-0492. Proceedings will be in French.
ANY MONEY COUNTERS?
We would still like to have a few more parishioners to count the Sunday collection. Dorothy and Phil have been doing it for years and it is only fair that they want a well-deserved break from it. It is really not a very big job. It can be done right after Mass or, if preferred, not later than Monday morning. May we hear from you?
OUR SYMPATHY AND PRAYERS:
For the Cullen, Corrigan and Belter families on the death of their loved ones, Gerry, Curtis and Raymond (Brother-in-law Veronica Belter).
HARVEST SUPPER:
A harvest supper is planned for Friday October 28th. Tickets will be available before and after mass starting on October 1st. Adults: $12.00,Children (5-12) $6.00, under 5: free. Last date to buy tickets is October 24th. No tickets sold at the door.
PPC MEETING:
Wednesday, September 28th, 7:15 p.m.
CONGRATULATIONS TO:
Paul Andre & Leonne Lanthier who will celebrate their 50th wedding Anniversary.
SANDBAG NIGHT:
Thanks to all who made the sandbag night a $1,000.00 success. A big hug to all who helped in the kitchen, hall & bar. What great team work! (signed Monique & Ken)
THANKS:
To Monique & Ken, and their helpers for a wonderful evening last Friday. Maybe, the next time, we will see more of our parishioners. (Signed OLV Society)
| | | | |
| --- | --- | --- | --- |
| Weekly Receipts | O.L.V. | St. Malachy | |
| Regular Sept. 18 | $ 625 | $ 220 | THANK YOU! |