TWENTY-EIGHTH SUNDAY

IN

ORDINARY TIME

Our Lady of Victory
Sunday - 9:00 A.M.
CELEBRATION OF THE EUCHARIST
St. Malachy
Saturday - 7:00 P.M.
F O O D F O R T H O U G H T
Reading I
2 Kings 5.14 - 17
Responsorial Psalm
The Lord has revealed to the nations his healing power.
Reading II
2 Timothy 2.8 -13
Gospel
Luke 17. 11- 19
Food for Thought

Can I imagine this scene? Ten miserable individuals have to call on Jesus from a distance for fear of contaminating him.
What is going on in them?
What happens?
What does it say to me?
Pastor

Rectory

490 Charles Street
Gatineau, Québec J8L 2K5

Secretary

Monday and Thursday - 1:00 - 4:00 p.m.
Tuesday and Wednesday - 9:00 - 10:00 a.m.

Email

Telephone

(819) 986-3763

Fax

(819) 961-3159
ARE YOU NEW TO OUR PARISH? WELCOME!
Welcome to those who want to make our parish their faith home. You may have come from other places. You may have been "away for a while". Be assured that we love to have you among us. We would appreciate it very much if you identified yourself at Mass. It would also help if you would take the time to fill out a registration form. The next time you are with us, you may leave it in the collection basket or give it to one of the ushers or to the priest. Thank you and welcome.

M A S S S C H E D U L E

---

SAT.
Oct. 20th - 7:00 p.m.
St. Malachy
Norah Kane by Donna & Gilles Clement & family
SUN.
Oct. 21st - 9:00 a.m.
OLV
Jos. McGurn (13th Anniversary) by Jack & Elaine
Margaret Dorion by Nan & family
Bernadette Lawlis ( 20th Anniversary) by Jerry and family
SACRAMENTAL PREPARATION: BAPTISM – FIRST COMMUNION – CONFIRMATION
Preparation for Sacraments on its own accomplishes very little. If it is to accomplish its real purposes, it has to be part of something more important, namely

Formation to Christian life. That is why our Bishop urges us to move from the practice of preparing for sacraments to the practice of forming Christian life. To make that switch is not easy. It can only be done in small steps.

This is not for children only. We are moving beyond special sessions for children only, Isolated from the rest of the family and from the rest of the parish community. The younger members of the community are introduced into faith practices that are important to the wider parish community; they belong to that wider parish community which, in turn, has a stake in what they do.

Participation in Sunday Eucharist or going to Mass is really an Easter deed. That is why the first preparation normally takes place in the Church s 50-day Easter season. That makes the preparation for the Easter season in the 40-day Lenten season and the celebration o the Three Great Days ( Holy Thursday, Good Friday, Easter Saturday and Sunday) all the more important. The preparation of our younger members for their first communion coincides with what as Church we are about in the Lenten season and the three Great Days.
BAPTISM The rite of Baptism will be celebrated in November. Over the years we have developed a series of three evenings of reflection in preparation for the celebration of Baptism This format gives the parents the opportunity to take a second look at their own baptism and why they want to have their daughter/son baptized. Baptism should not be taken for granted; nor is Baptism something you do around the birth of a child. There is so much more to it.
The evenings of reflection take place on Thursday, October 25th, Monday, November 5th, and Monday November 12th.
FIRST COMMUNION AND CONFIRMATION
We would like to hear from parents who would like to have their children make their first communion and from parishioners who are 15 years and up who are interested in being confirmed. Please contact us before November 18. It would be helpful if you would draw this item to the attention of those who might me interested. Thank you.
DEVELOPMENT AND PEACE FORTIETH ANNIVERSARY
The local chapter of D&P is celebrating the 40th anniversary of the organization on Sunday, October 28, 2007 from 1:00 p.m. to 8:00 p.m. in the basement of Ste-Maria-Goretti church, 664 Duberger St., Gatineau Sector. Everyone who loves the organization is heartily welcomed. After the joyful gathering at 1:00, at 2:00 there will be an overview of the 40 year history. At 3:00 we will work with the Church document Populorum Progressio, which inspired the foundation of D&P, to rediscover the meaning of "development" and see how we can better work at it now and in the future. Supper is at 6:00 (cost $10) and prayer is at 7:00. If you would like to attend the whole event or parts of it, please contact Pauline Leduc at 819-663-1121.
Development and Peace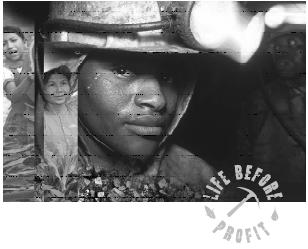 Update on 2006 mining campaign
Last year DEVELOPMENT AND PEACE began its focus on mining with a letter campaign calling on the federal government to regulate how Canadian companies mine overseas.

Over 152,000 letters were received. At least 36 Members of Parliament were visited by DEVELOPMENT AND PEACE members concerned about mining. DEVELOPMENT AND PEACE participated in a national consultation (roundtables) on Canadian companies in the mining, oil and gas industries working in Global south. The report out of those roundtables is an exciting step forward for this issue. It calls for a whole framework on how these industries should operate. The current education campaign theme comes from these roundtables and report.

Next week, a more in-depth look at the 2007 campaign.
WE MADE THE NEWS IN OUR DIOCESAN WEEKLY COMMUNIQUE
"Some important changes have taken place in the last month that pertain to the priests assigned to the English parishes. The parishes of Our Lady of Victory, St. Malachy, St. Aloysius and St. Columban have a new parish priest in Father Gyanprakash Topno. Father Gyan is from the Diocese of Jamshedpur in India. He came to join us in August as a result of an agreement that our Archbishop made with Bishop Felix Toppo S.J. Father Paul Mbav C.S.Sp. is the new pastor for the parishes of St. Camillus, Our Lady of Sorrows, Holy Cross and St. Martin. Father Bruno Godbout C.S.Sp. is now the pastor of Our Lady of Sorrows together with St-Nom-de-Marie. Father Bill Marrevee S.C.J. is pastor for St. Mark's."
NEW LOOK FOR OUR DIOCESAN WEBSITE
If you have 'access to the web', check out our diocese's new website at
http://diocesegatineau.org
FUND RAISER - Fuel for OLV
A dance is being organized and will be held at the Palais Gomme (Doherty Road) on October 20th from 8:30 p.m -1:00a.m. Music will be provided by the Talegators (Mark Dubois). Admission is $6:00. Proceeds will be going towards fuel for OLV. For tickets, or information, please call Susan at 281-2487 or Alma at 986-3767/986-3534.
HARVEST SUPPER
OLV & ST. Malachy are organizing a Harvest supper to be held on October 26th.
| | |
| --- | --- |
| Cocktails | 4:30 p.m. |
| Supper | 6:00 p.m. |
| Adults | $12.00 |
| Children 6-12 | $6.00 |
| Kids 5 and under | Free |
Tickets are on sale now at the entrance of the church or call Raymond St. Jean at 986-6366. Get your tickets early, as the supper is now open to the public.
CALL FOR DRIVER VOLUNTEERS
Fr. Gyan will need a driver to get from Gatineau to Mayo on Saturday – to arrive at St. Malachy by 6:30 pm. He also needs to get back to St. Aloysius after the 9 a.m. mass at OLV. Please call Alma with your name and phone number to be added to the rotation list. This list will work the same way our current Ministries list operates. Sincere thanks to all who are able to lend a hand (or car in this case!).
CALL FOR FOOD (DINNER & BREAKFAST)
As Fr. Gyan lives in Gatineau, he doesn't have the opportunity to shop or cook when he stays overnight Saturday nights. As a result, we are asking for volunteers to provide a supper and a breakfast for him. With enough volunteers, he'll benefit from the wide sample of great cooks in this area! May we count on you? Please call Alma if you are able to help.
PPC MEETING
The PPC meetings will now be held on the third Tuesday of the month. The next meeting will be on Tuesday October 16th at 7:15 p.m. in the rectory.
PRAYERS
Please pray for those who have died especially Pearl Kimball Phillips, and for the mourning family.
IMPORTANT GENERAL ASSEMBLY MEETING CALLED FOR OCTOBER 14TH
We hope that you have had the opportunity to read and maybe even discuss the letter that you should have received this past week concerning the future of our two parishes.
We are all invited to contribute at this important assembly and to take a look at this concern that the wardens and PPC have brought our attention to.
We are seeking your input at this general assembly meeting
scheduled for THIS SUNDAY October 14th, starting from 1:30 pm
We need your ideas and thoughts concerning the health of our whole faith community.
We are all in this together.
That's why we are reaching out to you and to all who have some say in the future of their parishes.
We hope everyone shares our concern and we hope to see you at this important meeting, and in great numbers!
CEREAL BAR DRIVE
The cereal bars will be collected next Sunday, October 21th for the Buckingham Elementary School. The box will be at the entrance of the church.
OFFICE HOURS
| | |
| --- | --- |
| Monday and Thursday: | 1:00 – 4:00 p.m. |
| Tuesday and Wednesday: | 9:00 – 10:00 a.m. |
Telephone messages are picked up on a regular basis throughout the week.
W E E K L Y R E C E I P T S
Date
Collection
OLV
St. Malachy

---

Oct. 13/14
Regular
$ 684.00
$ 378.00
Oct. 13/14
Support
390.00
150.00