TWENTY-NINTH SUNDAY

IN

ORDINARY TIME

Our Lady of Victory
Sunday - 9:00 A.M.
CELEBRATION OF THE EUCHARIST
St. Malachy
Saturday - 7:00 P.M.
F O O D F O R T H O U G H T
Reading I
Exodus 17.8 -13
Responsorial Psalm
Our help is from the Lord, who made heaven and earth
Reading II
2 Timothy 3.14 – 4.2
Gospel
Luke 18. 1 - 8
Food for Thought

This woman was socially vulnerable – at the mercy of family and friends. This judge is a person of power and influence.
God grants justice to those who persist, and grants it speedily. Do I persist in my faith, in my prayer; or do I falter regularly?
Can I ask the Lord about this? Can I imagine this scene? Ten miserable individuals have to call on Jesus from a distance for fear of contaminating him.
Pastor

Rectory

490 Charles Street
Gatineau, Québec J8L 2K5

Secretary

Monday and Thursday - 1:00 - 4:00 p.m.
Tuesday and Wednesday - 9:00 - 10:00 a.m.

Email

Telephone

(819) 986-3763

Fax

(819) 961-3159
ARE YOU NEW TO OUR PARISH? WELCOME!
Welcome to those who want to make our parish their faith home. You may have come from other places. You may have been "away for a while". Be assured that we love to have you among us. We would appreciate it very much if you identified yourself at Mass. It would also help if you would take the time to fill out a registration form. The next time you are with us, you may leave it in the collection basket or give it to one of the ushers or to the priest. Thank you and welcome.

M A S S S C H E D U L E

---

SAT.
Oct. 27th - 7:00 p.m.
St. Malachy
Marjorie Miller (4th Anniversary) by the family
Mary & Earl Prud'homme by William Fahey
SUN.
Oct. 28th - 9:00 a.m.
OLV
Eddie Cameron by Lorraine & family
Suzanne Lawlis Park by Deanna Bastien
Louis Weatherdon by Annie Donovan
Development and Peace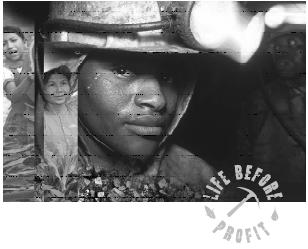 Update on 2006 mining campaign
Last year DEVELOPMENT AND PEACE began its focus on mining with a letter campaign calling on the federal government to regulate how Canadian companies mine overseas.

Over 152,000 letters were received. At least 36 Members of Parliament were visited by DEVELOPMENT AND PEACE members concerned about mining. DEVELOPMENT AND PEACE participated in a national consultation (roundtables) on Canadian companies in the mining, oil and gas industries working in Global south. The report out of those roundtables is an exciting step forward for this issue. It calls for a whole framework on how these industries should operate. The current education campaign theme comes from these roundtables and report.

Next week, a more in-depth look at the 2007 campaign.
Outaouais Health and Social Services Network (OHSSN)

OHSSN serves the English-speaking population of the Outaouais. The network is committed to working with communities, public health agencies, and community organizations to facilitate access to health and social services in English.

Do you need assistance in finding information or services in English? If so, you can call the health and social services coordinator, Danielle Lanyi at 819-682-9602 or e-mail dlanyi@magma.ca.
HARVEST SUPPER OCTOBER 26TH
Don't forget to get your tickets for the Harvest Supper either at the entrance of the church or call Raymond St. Jean at 986-6366. Last chance!
INVITATION TO THE FALL ZONE WORKSHOP NOVEMBER 17TH
Challenged with the huge task of gaining an understanding of and familiarizing ourselves with the components of a living faith, here and now, we question whether we will be able to help anyone in search of meaning and spirituality guidance, or whether we are capable of helping them make a few evangelical steps forward. And we are asked to do this in ever-changing times. But how to make it tangible in today's reality? Together let us continue our attempts at wrestling with the concepts mandated to us by our Bishop with the publication
Discovering Jesus Christ the Path to Freedom
, exploring its vision and taking a look at where we are with our communities sharing the responsibility to announce the Gospel in today's world and offer Jesus Christ, life force, the way to become fully human.
| | |
| --- | --- |
| What: | Exploring "the how" to becoming schools of catechesis |
| When: | Saturday November 17th 2007 – 9 a.m. to 12 p.m. |
| Where: | Our Lady of Annunciation parish – 189, rue Archambault, Hull |
IF YOU ARE CONSIDERING PARTICIPATING AT THE ZONE WORKSHOP
We have a little 'homework' to do before we go to the Zone workshop together! It involves naming all the things we 'do' and all that we 'are' as a two-parish community. If we are to be serious about our role in our Christian mission, we need to understand who we are today, in order to be enabled to move into tomorrow. There won't be time to spend on this portion of the exercise at the Zone meeting, but to get the most out of it, it is imperative to have this for the meeting. Please join us on November 4th at the rectory from 2 pm if you are considering participating at the Zone workshop.
REGARDING OUR GENERAL ASSEMBLY MEETING LAST SUNDAY
The wardens and PPC members would like to thank each and every one of you who were able to participate at this important meeting last Sunday.
The meeting held to the promised length of two hours and your ideas, comments and thoughts will help determine what we do next. If you have any other comments to add, please contact any one of the PPC or Fabrique members or drop them a note in the Sunday collection basket.
The wardens and PPC will meet to discuss our action plan and will mail this report back to the whole community once it is finalized. If you need to adjust your mail address, please contact Alma during office hours, or drop a note in the Sunday collection basket.
Your support for our 2-parish community
is both generous as well as appreciated.
Thank you!
PRAYERS
Please pray for those who have died especially Robert Garvey and Cecil Jemus (sister of Allen Goulet & Leonne Lanthier) and the mourning families.
WARDENS - OLV
Two new Wardens are needed this year. Please consider volunteering as a warden. If interested you may call one of the wardens or call the office at 986-3763. Elections will take place at the end of November.
COOK BOOKS
Cook books are still available. You may call Monique at 986-3166 or the office at 986-3763.
OFFICE HOURS
| | |
| --- | --- |
| Monday and Thursday: | 1:00 – 4:00 p.m. |
| Tuesday and Wednesday: | 9:00 – 10:00 a.m. |
Telephone messages are picked up on a regular basis throughout the week.
If you have any items for the bulletin, please send them to Alma before Wednesday afternoon
or email Gale directly by end of day Wednesday: galeandreggie@videotron.ca.
W E E K L Y R E C E I P T S
Date
Collection
OLV
St. Malachy

---

Oct. 13/14
Regular
$ 646.00
$ 239.00